Again Matisse: Playing with Perspective, Form, and Color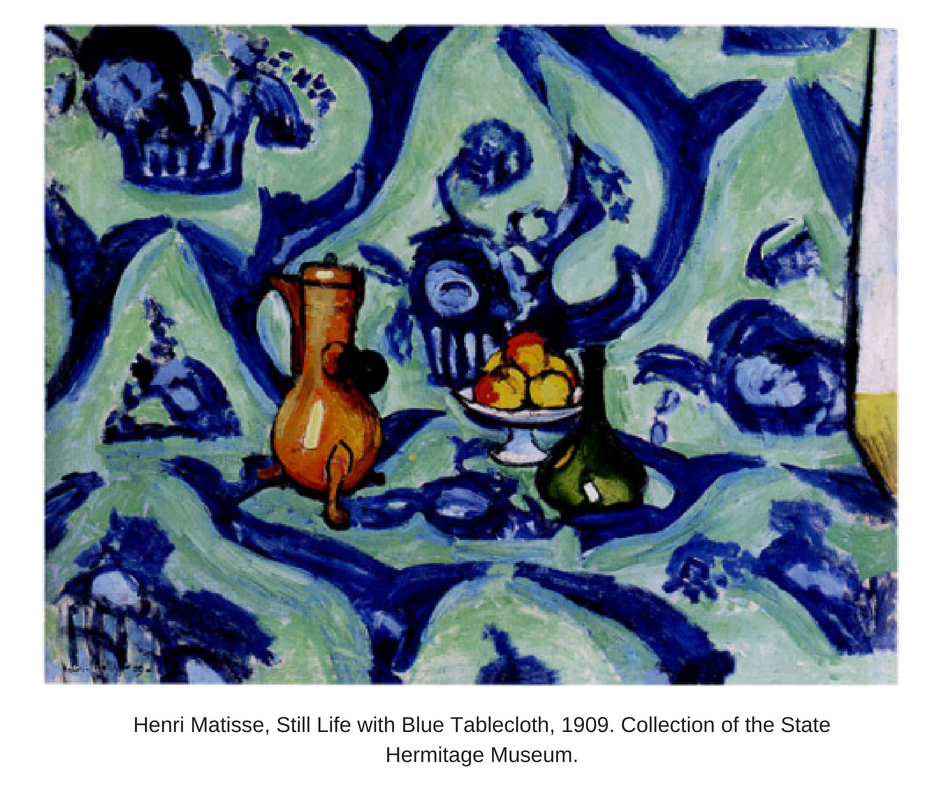 Another still life by Matisse that shows his playful use of abstraction and skewed perspective. In "Still Life with Blue Tablecloth", 1909 he uses one of his now iconic fabric backdrops for his arrangement. Simplifying the painting of the cloth and making it look like it is part and parcel of the foreground and the objects renders the objects themselves to mere shapes and colors to our minds. Balancing out out the blues of the fabric are his famous chocolate pot, the red/orange fruit, and to the right, the warm triangle of table top wood and white wall. This element is just enough to remind us that we are looking at items arranged on a table top. Without it, the objects would be floating in a sea of blue. But of course, Matisse would never do that to us!❤️🎨🌺
The painterly aspect of his fabrics to me is just short of divine! They way he can just free-style with something that most artists belabor and belabor is STILL as refreshing to the eye as ever. This one aspect of his still life paintings sends me back into the studio to try, try, and try again.
I hope you enjoyed my interpretation of "Still Life with Blue Tablecloth".
I would love to connect with you of Fb! Please leave a comment below, and let's start a conversation.
Join my art community by clicking here and receive a FREE 5x7 Print of Your Choice as My Gift!