Path to a View, Reid State Park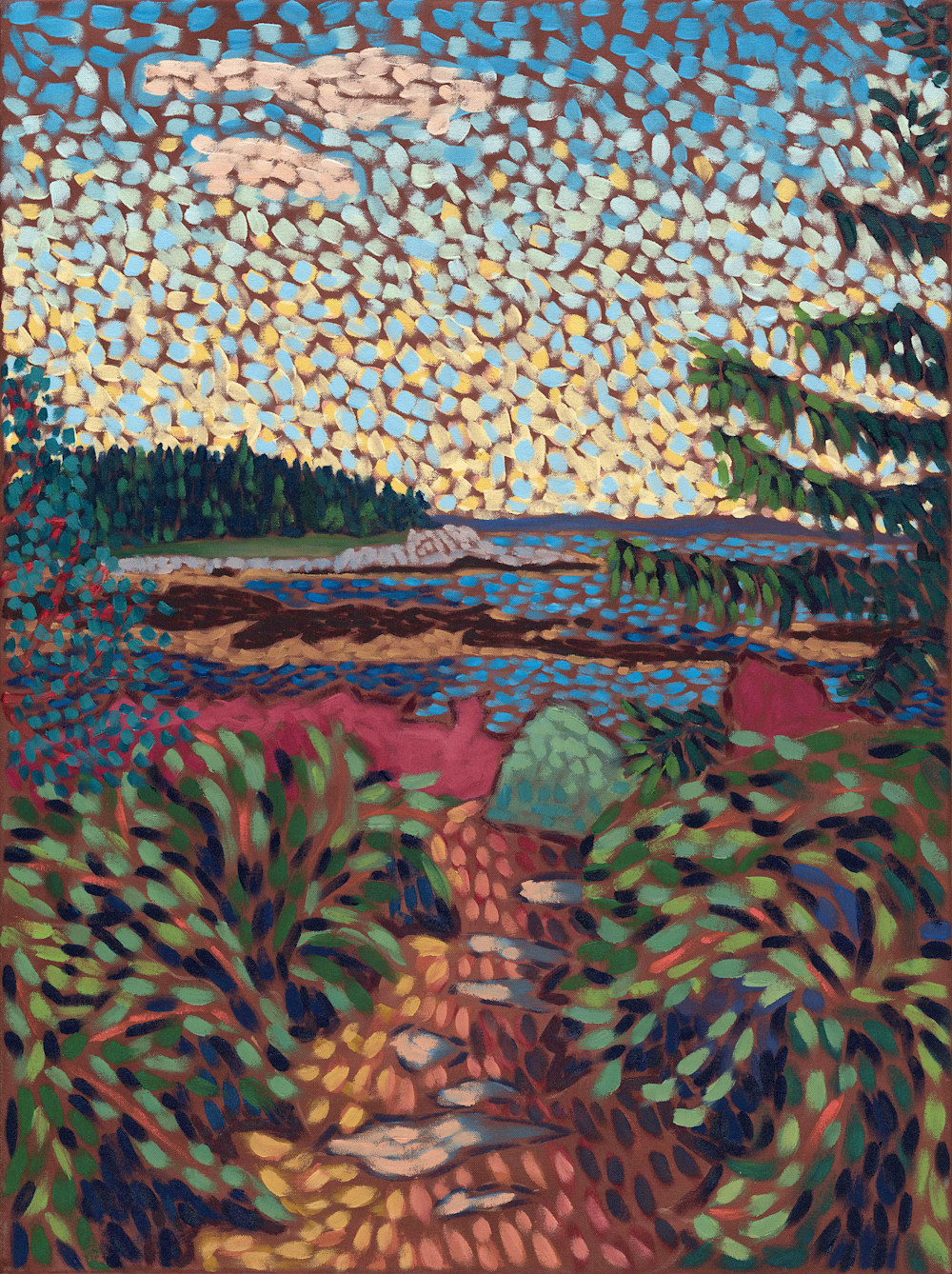 Path to a View, Reid State Park
I have been thinking about this piece. My painting past is littered with pieces that I destroyed, severely regretting it afterwards, with a hindsight that is much more forgiving. This is one of those pieces, except instead of destroying it I just put it out of my sight. It has taken a while for it to grow on me. I have been looking at it more closely of late.
It was inspired by one of the most beautiful parks in Maine, Reid State Park, with the summer foliage in full bloom. Reid State Park is a vision of the bold, rocky coast Maine for which Maine is so well known. On bright, sunny days the rocks are sun bleached and make an arresting view against a deep blue sky. Walking paths on top of the rocky cliffs are sometimes blocked by the wildly growing Rosa Rugosa. I wanted to get a clear view to the open ocean, but it was not to be with this shot. Although I felt it was awkward, I pursued it anyway, and still felt compelled to make a canvas from it.
It was my daughter who steadfastly refused my attempt to take it off the stretcher bars, and insisted that I hang it up in the house. I begrudgingly hung it in the upstairs bathroom, "Where no one else will see it". So it hung there, ignored for years. Recently, when it came time to bring my paintings to be scanned, she insisted I include this one. I told her, "The scanning isn't cheap.......I can't bring just any painting!" Again she insisted, and persisted in telling me I was just plain wrong about this one.
When I look at it now, I do get the sense that there is a path in front of me that is not easy. It is full of brambles and stickers and things that will very likely make my skin itch like mad. But there is a path, and I need to go through it to get that view. The idea that to go THROUGH something, and not around it or to try to ignore it away looms large. Part of facing our fears includes being vulnerable. And there is nothing more vulnerable than making art, and showing it to the world. But this is my path, and if I have to walk through brambles and feel really uncomfortable, then so be it. I will have to be comfortable with being uncomfortable.
What is your path? What are your brambles?
This piece is currently hanging at my Show at Mae's Cafe in Bath, Maine. Click here for show show openings.
I hope you enjoyed my description of making "Rocks/Trees/Sky, Reid State Park". Click here for purchase options for this piece.
Join my members list and receive a FREE 5x7 Print of Your Choice as My Gift!