Why Are They So Different? Creativity and Consistency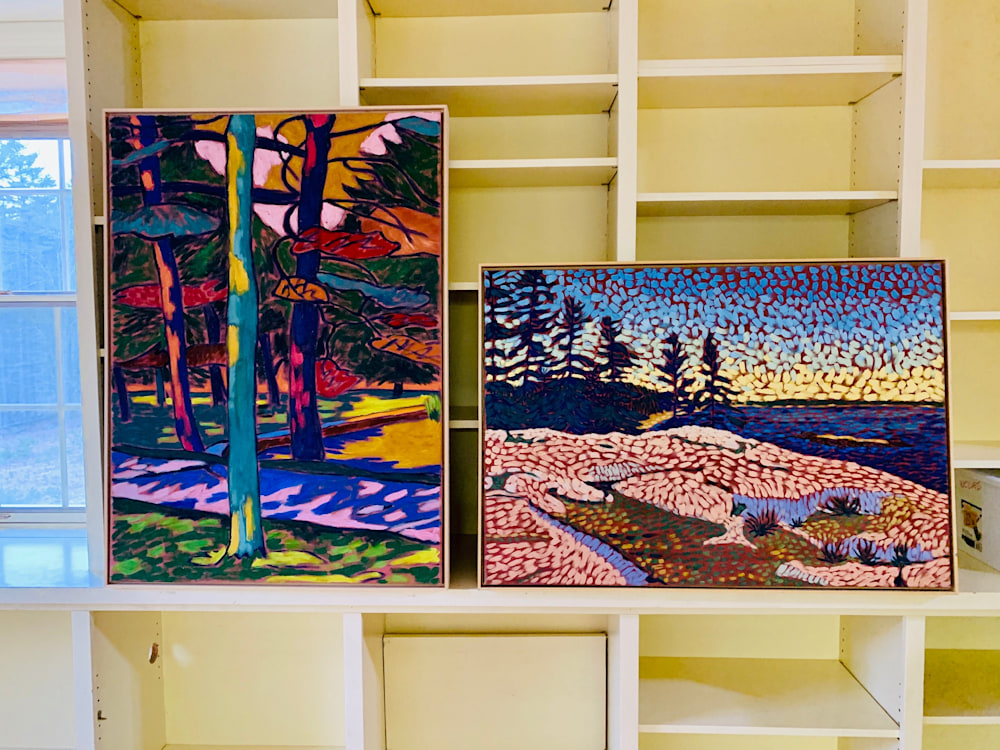 I recently posted these two paintings on Facebook and received a comment about whether or not these two paintings represented two separate styles of mine, and when they were painted. It was such a good question, and one that usually sparks so much discussion, that I made a video about it, which you can watch here. (P.S. I misspoke in the video....I said Georges Braque, where I meant to say Maurice de Vlaminck......lest the die hard Fauve fans get confused! :)
I painted these two paintings within a short time frame.....maybe a few months apart. The painting on the right, Reid State Park II, represents my "current style", my own form of modern Fauvism/Pointillism. The one on the left, represents my love for all things Fauve, and the need to be constantly striving in my own creative interpretation of what Fauvism is. Meaning..........the pointillist style is the one that I have shown consistently and has been successful for me in the last decade or so. It is now like a favorite pair of jeans.......It feels great, it fits perfectly, and is so comfortable! I now don't really even have to think too much.....its all guts and feeling.
Having said that though, my pointillist style is quite laborious for each painting. The mixing of the colors FOR EVERY SINGE DOT OF PAINT does get fatiguing after a few paintings. So sometimes to "refresh" my creative juices, I step outside my style for some fresh air. In this particular piece, I was looking at an old favorite, Maurice de Vlaminck.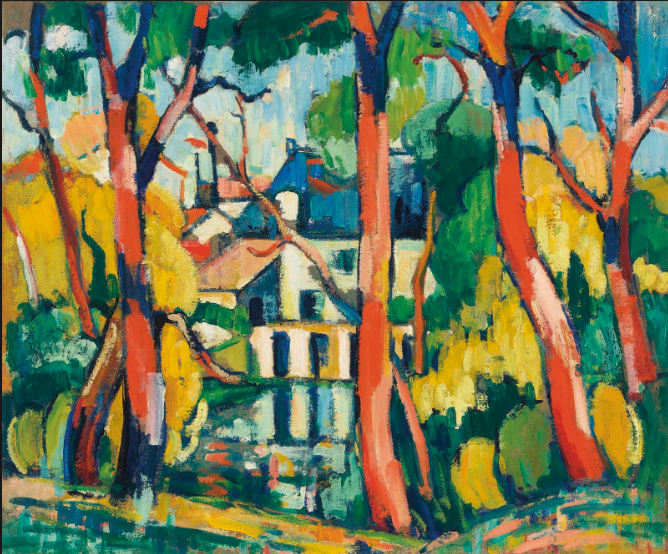 Maurice de Vlaminck (1876-1958) Arbres à la maison bleue, 21½ x 25¾ in. (54.5 x 65.5 cm.)
Painted in 1906
The loose quality of many of the Fauves is something that I really wish I could grasp. And I think herein lies the difficulty that many artists have when confronted with the reality of "maintaining a recognizable style". Yes, we want to be recognizable by our work, and creating that style for ourselves is a long journey fraught with following our gut, choosing the right path and and landing at the right place. However, that unwieldy BEAST, creativity, makes us yearn for something ELSE, once we get there! And for me, it is a looser, freer style that always seems slightly out of reach. So I keep looking, keep striving, and perhaps eventually, the total body of work will make sense in the end!
I hope you enjoyed this insight into my work! I would love to connect with you about art........you can become a member of my art community here and receive special sales on my originals and prints, and more inside info into my studio and what's going on there!
​