Dahlov Ipcar: Blue Moons and Manageries, Bates College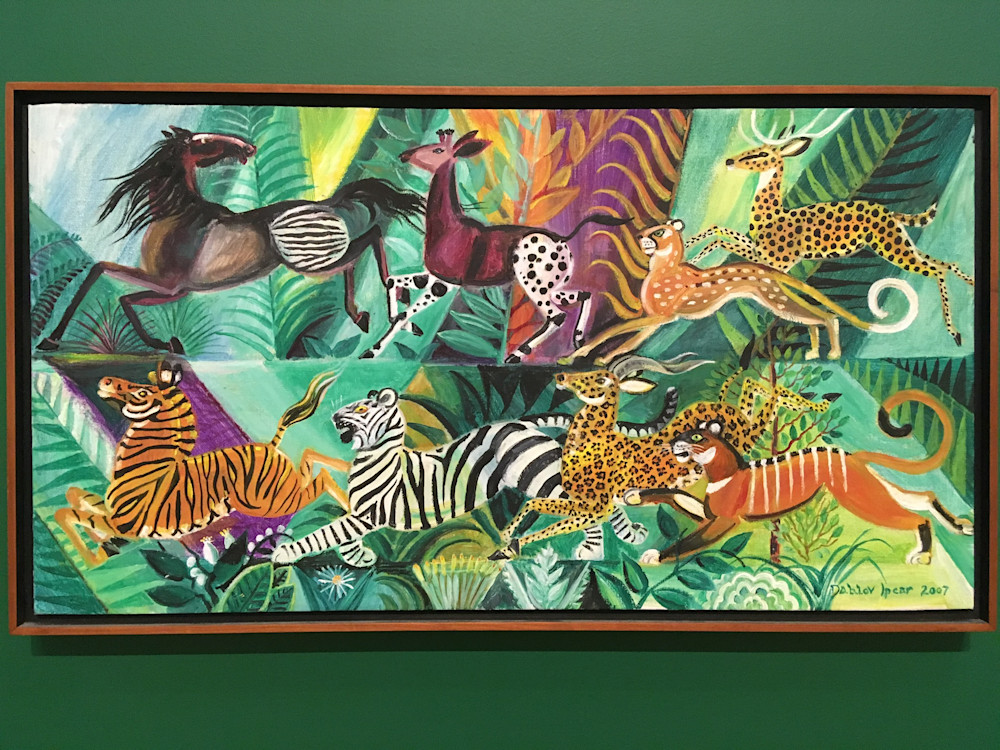 Dahlov Ipcar: Blue Moons and Menageries, Bates College
Stunning, beautiful, and wild! Its hard to find the right words that express the art of Dahlov Ipcar. I can't think of another artist whose life and work I admire more. Blue Moons and Menageries shows the incredible breadth of Dahlov's creativity; paintings, books, illustrations, prints, drawings, stuffed animals, decorations, and the list goes on. Set up in an interactive way with a couch and and reading area complete with all her beautiful children's books, as well as coloring pages and study sheet with questions about the pieces, this exhibit will delight all ages.
Dahlov Ipcar (1917-2017) was the daughter of two very prominent modern artists, William Zorach and Marguerite Zorach. It is the artistic relationship that she had with her parents that I find fascinating. William and Marguerite very intentionally created an atmosphere of stimulation and encouragement, but no formal art training at all for Dahlov. She had attended progressive schools as a child in New York, but dropped out of college after one year with no regrets, later saying that it could not possibly compare to the atmosphere of complete artistic freedom she enjoyed at home. In the accompanying exhibit essay by Sara Torres, Museum Education Researcher, Museum of Modern Art, NY, Torres states, "In the creative ambiance provided in the Zorach's family daily life, Dahlov was meant to develop her individual creative personality with proper stimulation and encouragement. The result of this experiment is one that no one could have anticipated. In Dahlov's freshness of imagination and the freedom and spontaneity in her handling of form and color, there is an invitation to everybody to think about the role that art plays in our lives."
Dahlov moved permanently to Maine and spent her life farming a property in George town with her husband Adolph and their two sons. Their life on the farm was hard, and they went years without material comforts like electricity. Dahlov's ability to forge her own way in her life and in her work will always be inspiring to me. She seemed to have that spirit of rugged individualism that many of us only dream about.
The first floor of the show is dedicated to Dahlov's paintings and some of the stuffed animals she made for her children. The descriptions on the show labels for these are priceless, like the one by Bob Ipcar for "Steeplechase Spill", 1974:
"The soft sculptures all started out as Dahlov's homemade stuffed toys that my brother and I slept with. We still have the originals but they're worn beyond description. To quote the skin horse from the Velveteen Rabbit: '...Generally, by the time you are Real, most of your hair has been loved off, and your eyes drop out and you get loose in the joints and very shabby. But those things don't matter at all because once you are real you can't be ugly except to people who don't understand".
The two pictures below show Ipcar's cloth collage "Garden of Eden", 1961. One can imagine her sitting at her studio table and putting together these scraps of cloth saved from other projects. The result is pure magic; a fantasy of her beloved animals, tree, sky, leaves, fruit, all mixed together in an riot of pattern and color. In her own words, she describes her work this way, "My art is fairly close to nature, but not dependent on nature. I am free to do anything I choose. If I paint the things around me it is only because I find them more strange and exciting than fanciful things. But I am never earthbound; if I want to do fantastic things I can, because even the real, everyday things I paint are all done from my imagination."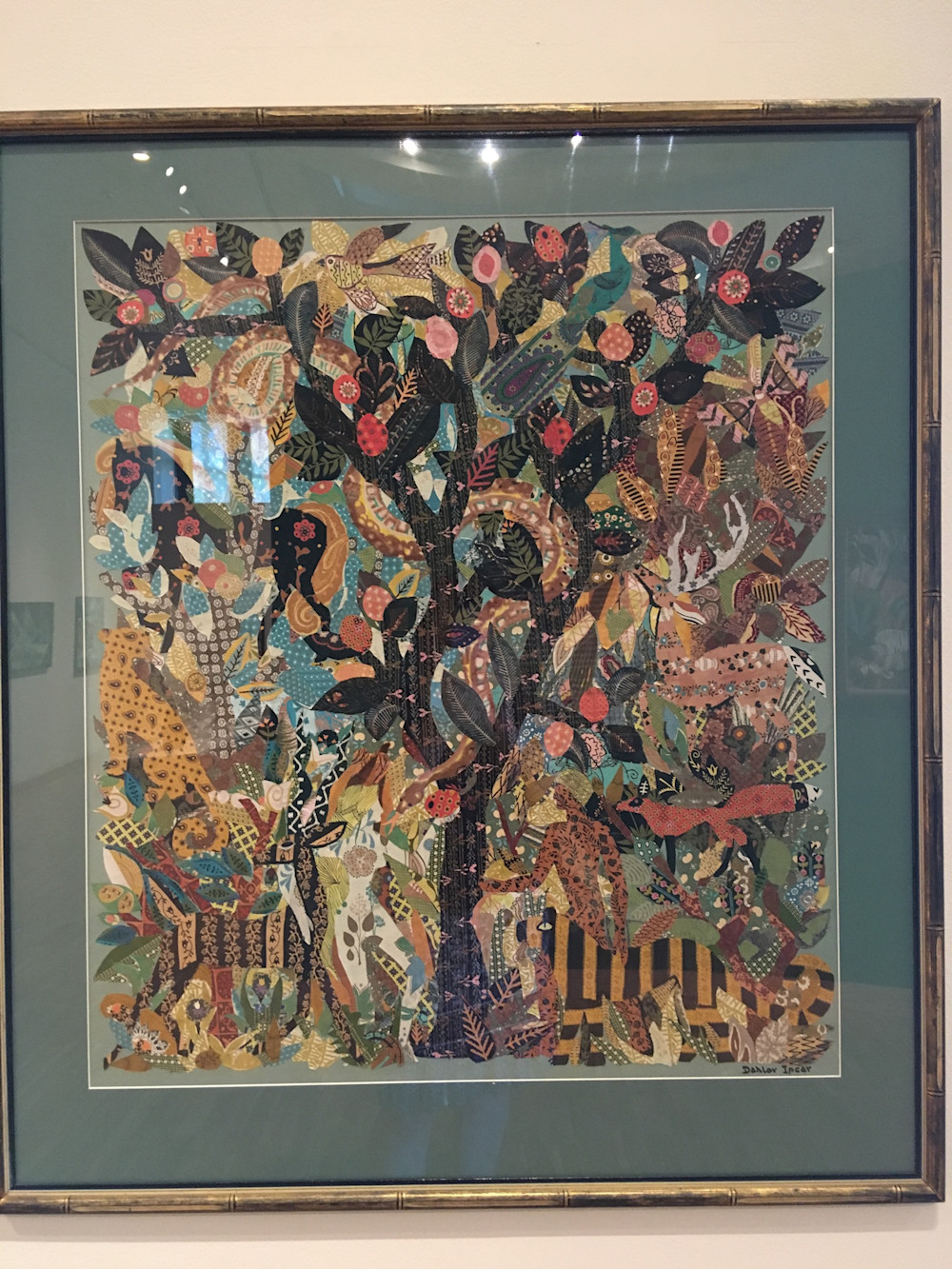 "Even the real, everyday things I paint are all done from my imagination" Dahlov said. Anyone who has had the privilege of viewing Dahlov Ipcar's work up close will see her words in action; her masterful mixture of reality and fantasy, form and color, subjective mixed with the abstracted will inspire us forever. Below are a few of her paintings from the self titled "Blue Moon" series. These paintings were done more recently, and were given to family members as gifts. Many works in this show are borrowed from private collections and have not been made public before. If nothing else, that makes this show an absolute must see.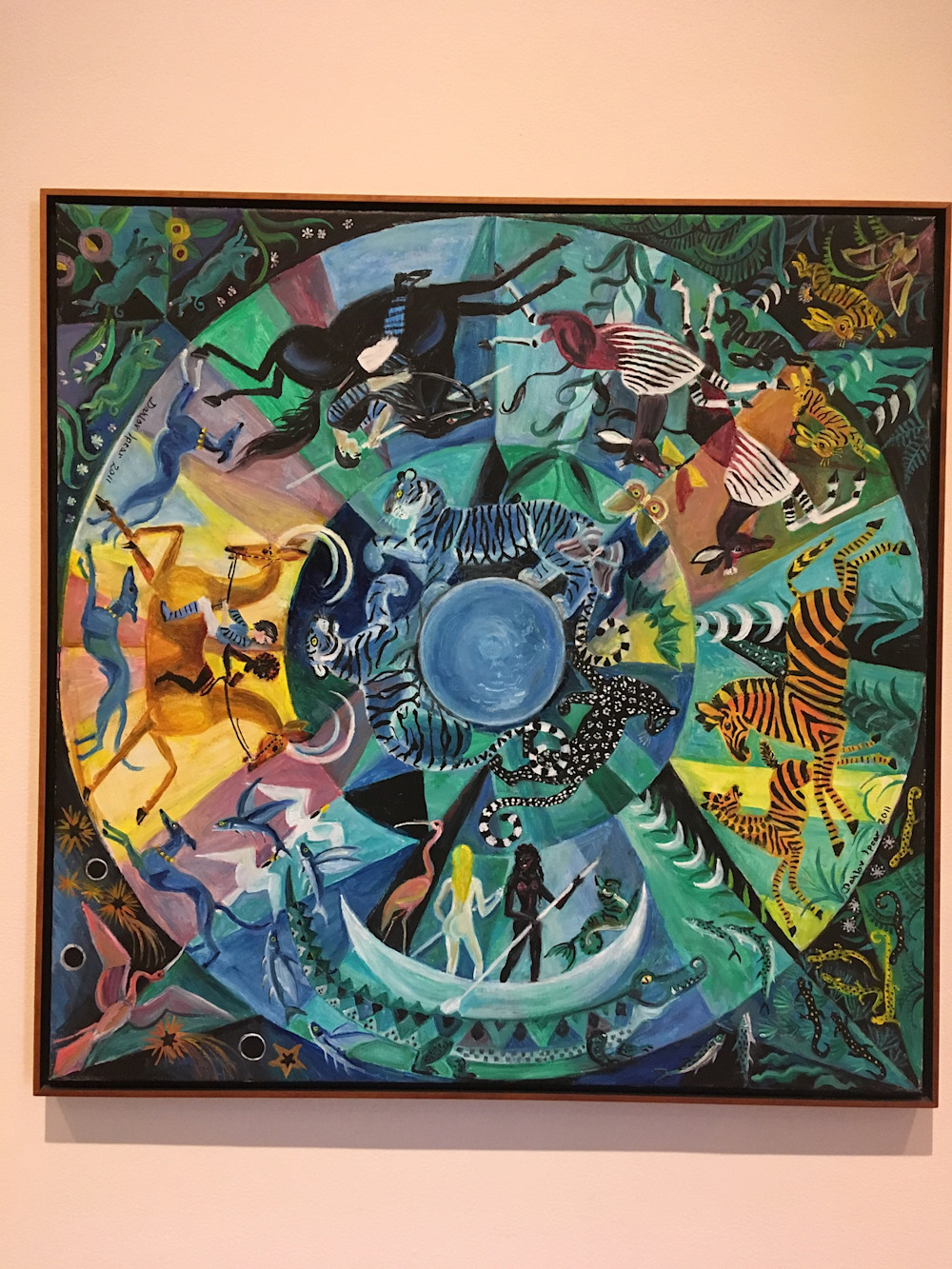 "Blue Moon Circle", Oil on Linen, 2011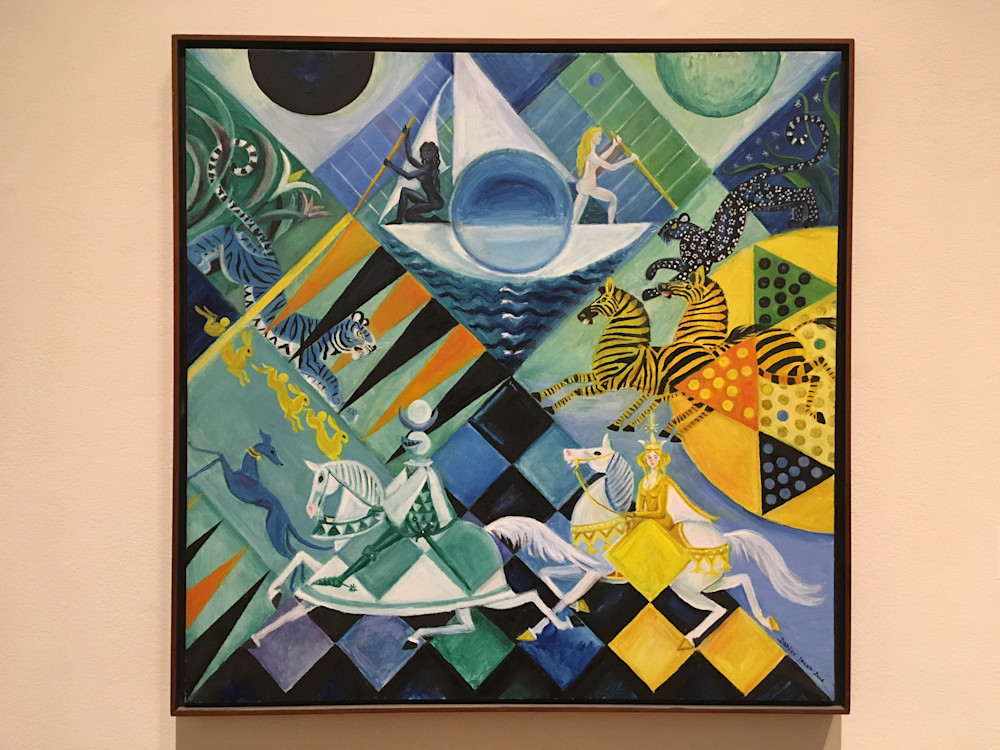 "Blue Moon Games", Oil on Linen, 2006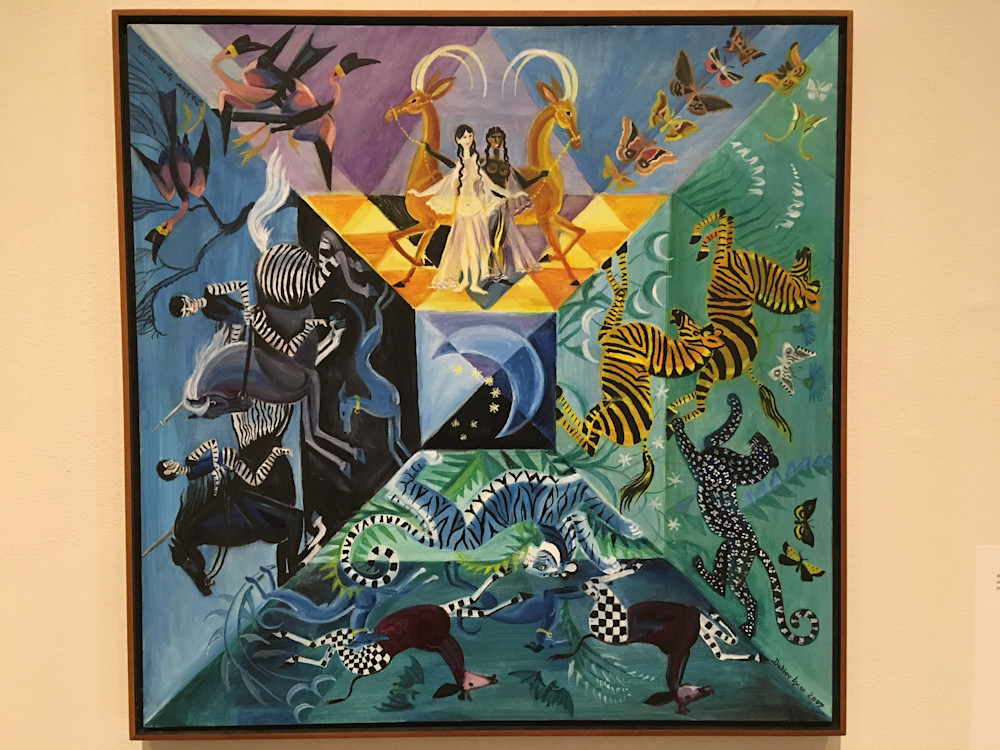 "Blue Moon Jungle, Oil on Linen, 2006
The Blue Moon Series of paintings are my personal favorite. The freewheeling mixture of geometric abstraction, fanciful subject matter, and a saturated palette harken back to many of my favorite masters; Andre Derain, Georges Braque, Henri Matisse, Marc Chagall, Wassily Kandinsky and the Blue Rider Group. What I really loved about this show is the mixture of old favorites and new surprises. The piece below simply took my breath away.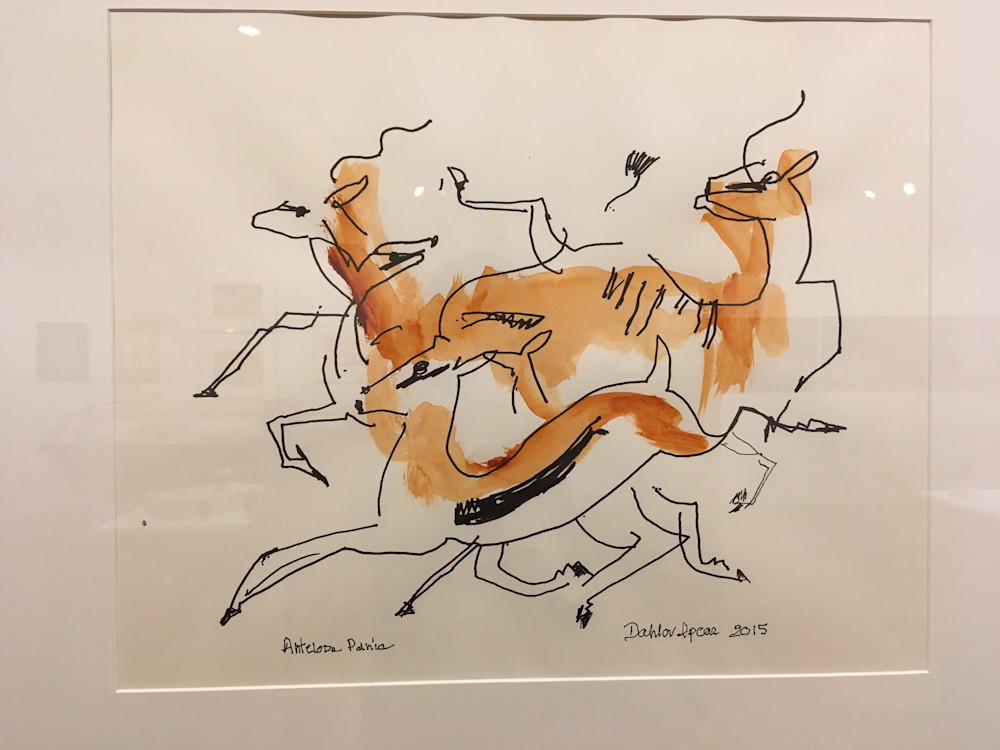 Antelope Panic, 2015
In "Antelope Panic" I see the supreme confidence of a mature artist who can express a feeling of exuberance, action and beauty with the simplicity of form that we can only expect from a master.
I hope you enjoyed this blog post on Dahlov Ipcar. Come see me this Friday at my show at Mae's Cafe in Bath, Maine. Click here for show show openings.
I would love to connect with you of Fb! Please leave a comment below, and let's start a conversation.
Join my art community by clicking here and receive a FREE 5x7 Print of Your Choice as My Gift!