Giovanni Giacometti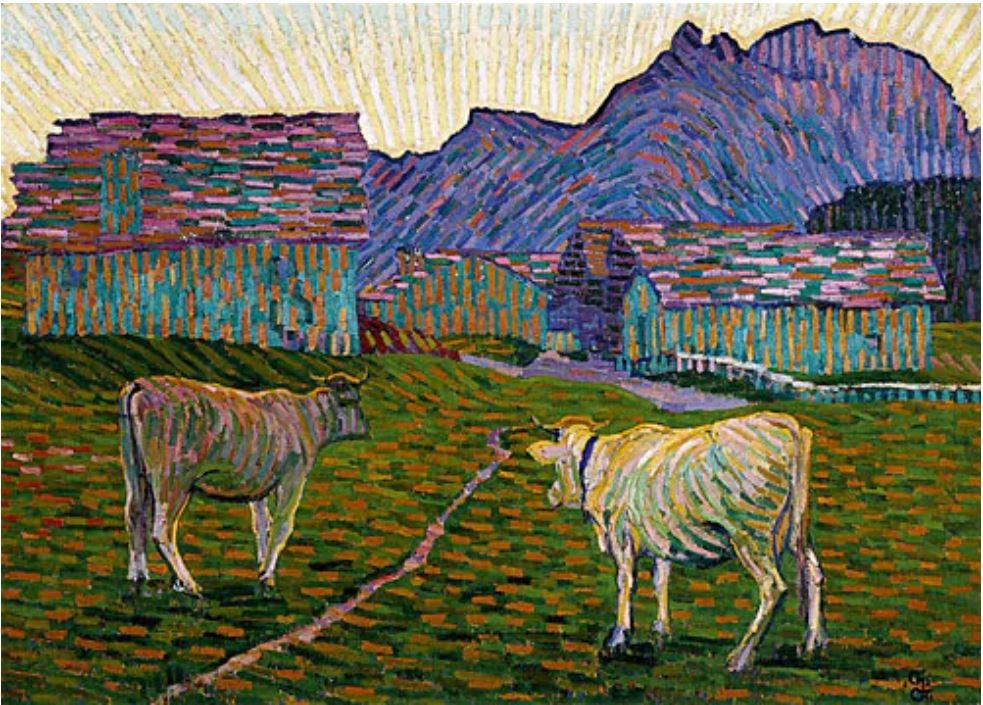 Sera sull'Alpe / Abend auf der Alp / Evening on the Mountain, Oil on Canvas, 1906
When most of us hear the name Giacometti, we probably get visions in our minds of modern sculpture. It was a very happy accident that I came across the work of the swiss painter, Giovanni Giacometti, who is the father of the renowned sculptor Alberto Giacometti. Just looking at a few of his paintings, I knew in my gut that he must have had contact with some of the Fauves which are now household names: Van Gogh, Gaugin, and possibly Kandinsky?
Giovanni Giacometti (1968-1933) was a Swiss painter, and was born in Stampa, Switzerland. He moved to Munich to study art in 1888. In Germany he met fellow Swiss painter Cuno Amiet, and the two travelled to Paris. While there, they were exposed to many Post Impressionist painters including Van Gogh, Cezanne, and other Fauves. The influence of these Fauves is immediately apparent in Giacometti's preference for bold colors, loose brush strokes, and abstraction.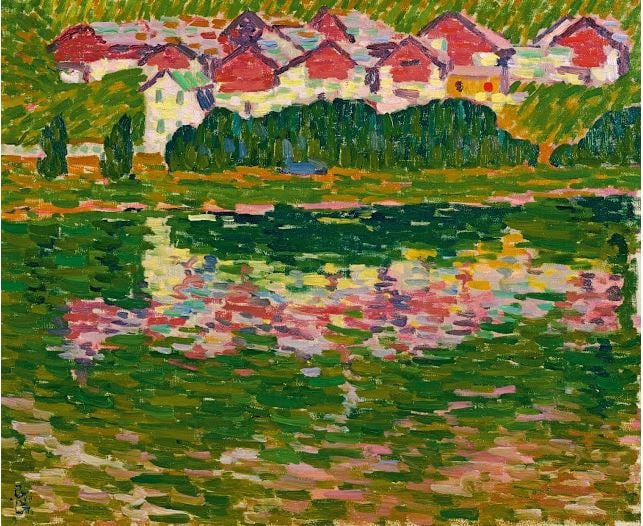 Colopago, 1906-1908
Another huge influence on Giacometti was painter and close friend, Giovanni Segantini. Giacometti had gone through a depression that he had tried to address by a move to Italy in 1893. He was struggling to find his personal, artistic form of expression. The elder artist Segantini suggested that he return to Switzerland and concentrate on the landscapes of his native region. Obviously this was crucially positive advice. We can absolutely see the celebration of those Swiss motifs in his wonderfully lively works.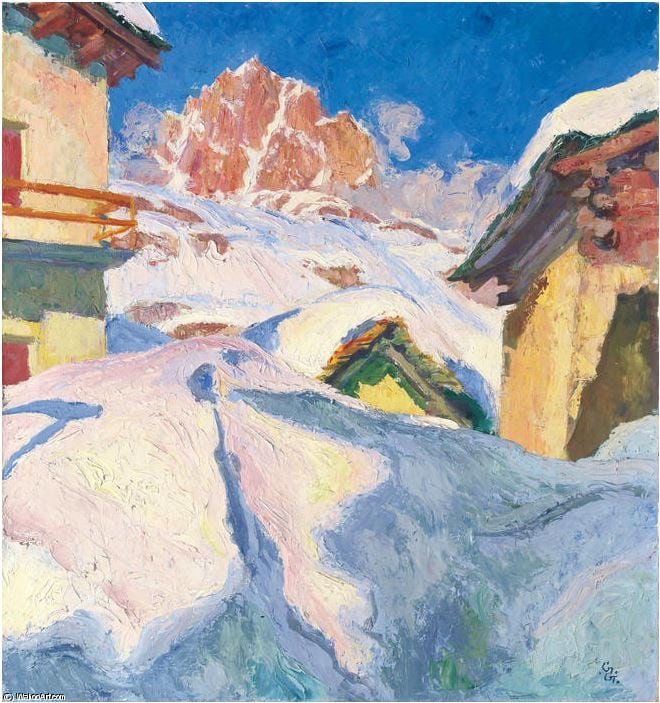 Giovanni Giacometti, Capolago in Winter, Oil on Canvas, 1928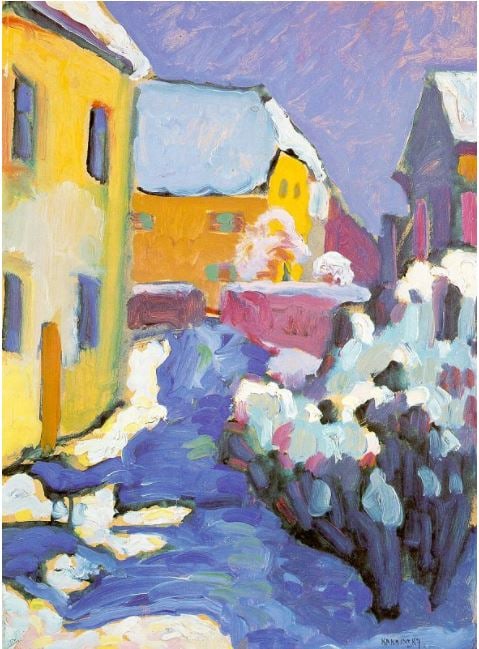 Wassily Kandinsky, Cemetery and Vicarage in Kochel, 1909
When you spend a lot of time looking at art, you eventually get that mental card catalogue of your favorite art pieces from which you can pull. When I saw Giacometti's Copolago in Winter above, I was immediately reminded of Kandinsky's Cemetery and Vicarage in Kochel, shown here below Giacometti's. To me this is uncanny and makes me wonder if Giacometti studied Kandinsky's early works. The time frame of when Giacometti was traveling between Paris, Italy, and Switzerland would have put them in each other's paths, I believe. I haven't done specific research on Giacometti yet, but these two pictures definitely warrant some sleuthing! What do you think?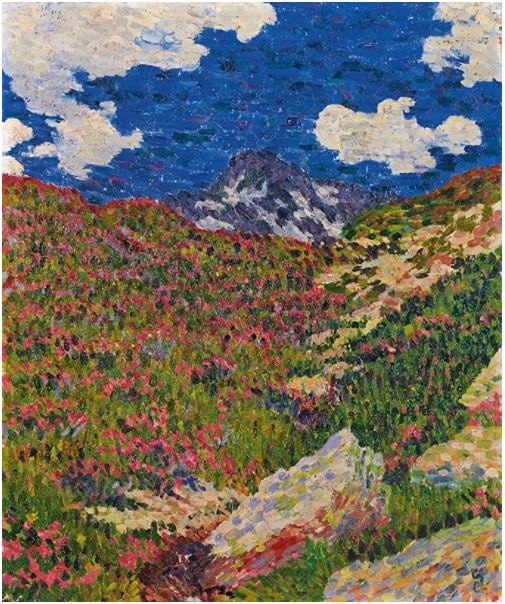 Landscape with Rhododendrons, 1910
Doesn't this just make you want to buy a ticket to the Swiss Alps? This painting just embodies the best of the Fauve techniques: the chunking apart of the foreground and background, loose brushstrokes, "points' of color and abstracted composition. This one is just a delight!
Back to Giacometti and Segantini, they remained close friends until Giacometti's death in 1933. Giacometti remained in Switzerland for the latter part of his life, and concentrated on his beloved mountains and landscapes. In the years before his death his works were shown in Switzerland, Austria, Germany, Italy, and England. According to his words in a catalogue of his work, "In the confines - the narrow confines - of my mountains, these pictures were created. The struggle with light is the mainspring of my work..."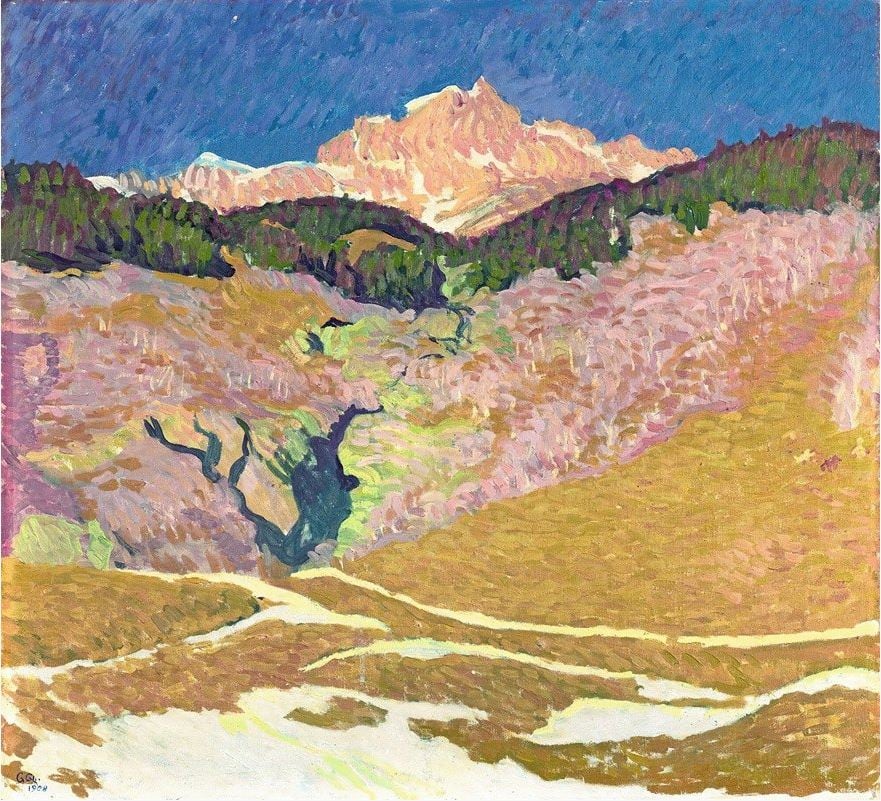 Giovanni Giacometti, Piz Duan, 1908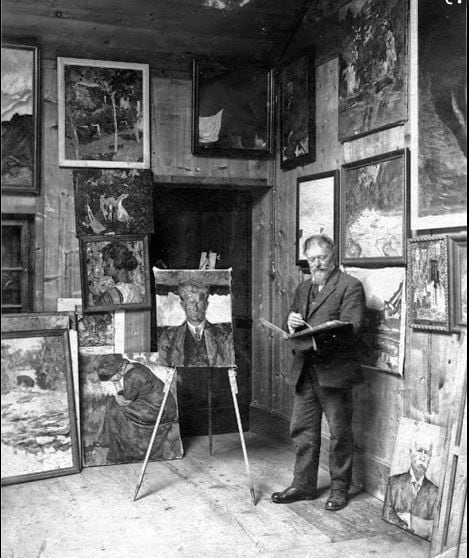 Giacometti in his studio. Not sure of the date of this photo.
As I said, it has been a very happy accident that his work came across my path. There is so much more to see and learn from this amazing artist. Stay tuned!
Sign up to email list to get first notice for my art sales and more! >>Sign Me Up<<