The Making of Nubble Light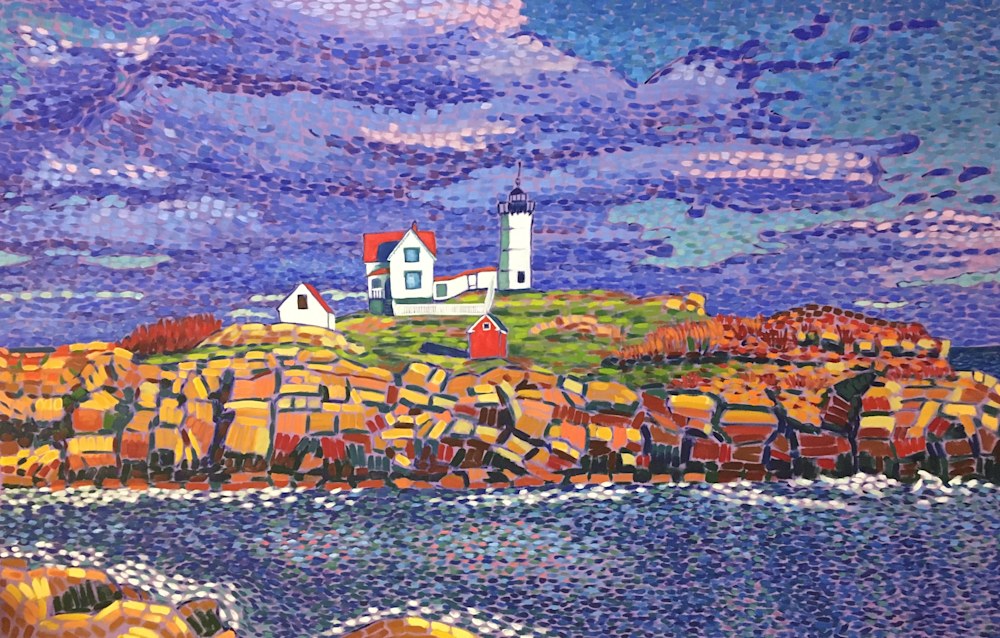 The Making of Nubble Light
So this painting was actually my first attempt at painting a lighthouse! I don't know why it took me so darn long to get around to it.....I've only been living in Maine for 19 years!! Maybe my resistance had to do with not wanting to paint the "typical" subject matter. Maybe it just wasn't my time yet.
This project turned out to be so amazingly fun! I was actually just starting my foray into social media. I had accounts set up for Facebook and Instagram but really wasn't very active yet. So I kind of took a step out of my comfort zone and decided to share my making of this online. I went onto some Maine artist groups, and really asked people to critique this along the way. The responses I got were fantastic! I had some great discussions about how to get unstuck about half way through. Nubble Light is a pretty large painting for me -- 42 x 62" and at one point I have to admit the dots were making my eyeballs shake! But putting the piece online during the various stages and getting critiques saved me!! So a big shout out to my fellow artists and online art people who gave me those great critiques!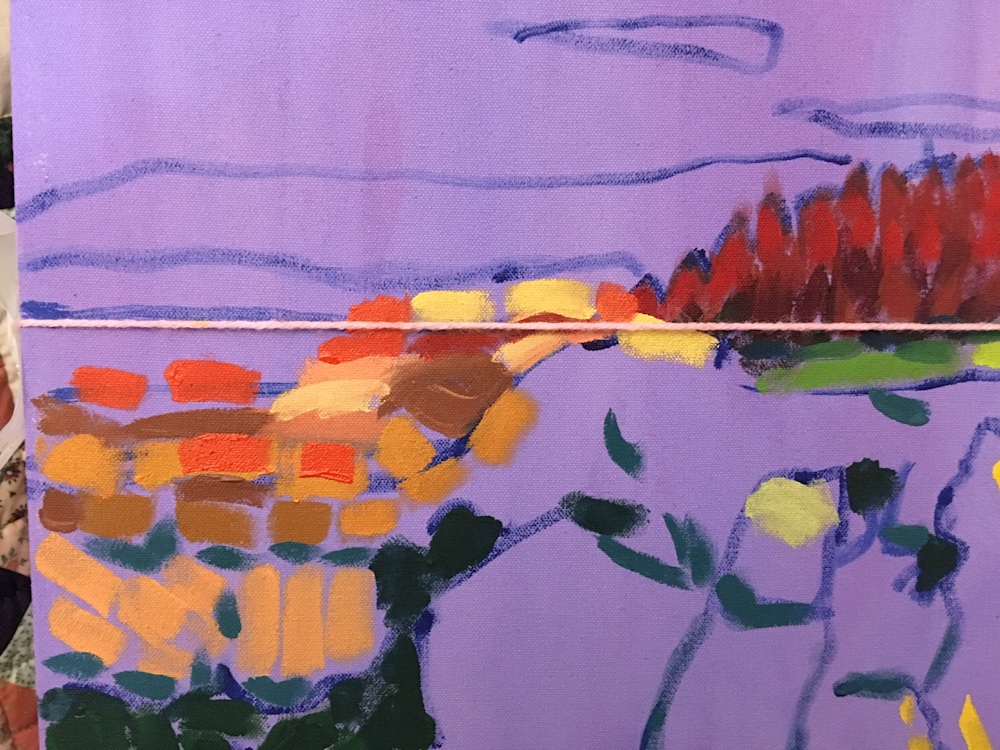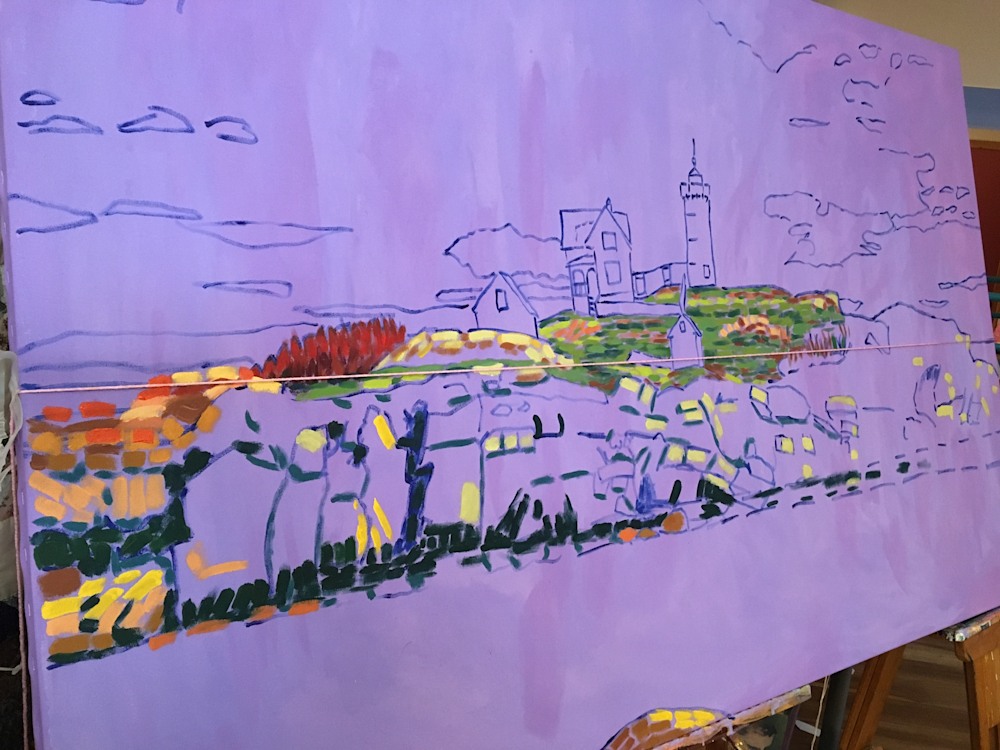 The pictures above show the string that I put on to mark off the horizon line for myself. This is the widest landscape painting that I have done, and with the sea in the foreground and background, it did not want to screw that horizon line up! The funny thing about my pointillism is that it can play tricks on your eyes! I actually drew a pretty accurate horizon line from my sketch, but I did not TRUST myself, and every time I stepped back I just couldn't make out if it was straight or not! So I stretched this string across the horizon line, and it was like an anchor for my eyeballs for the first half of the job!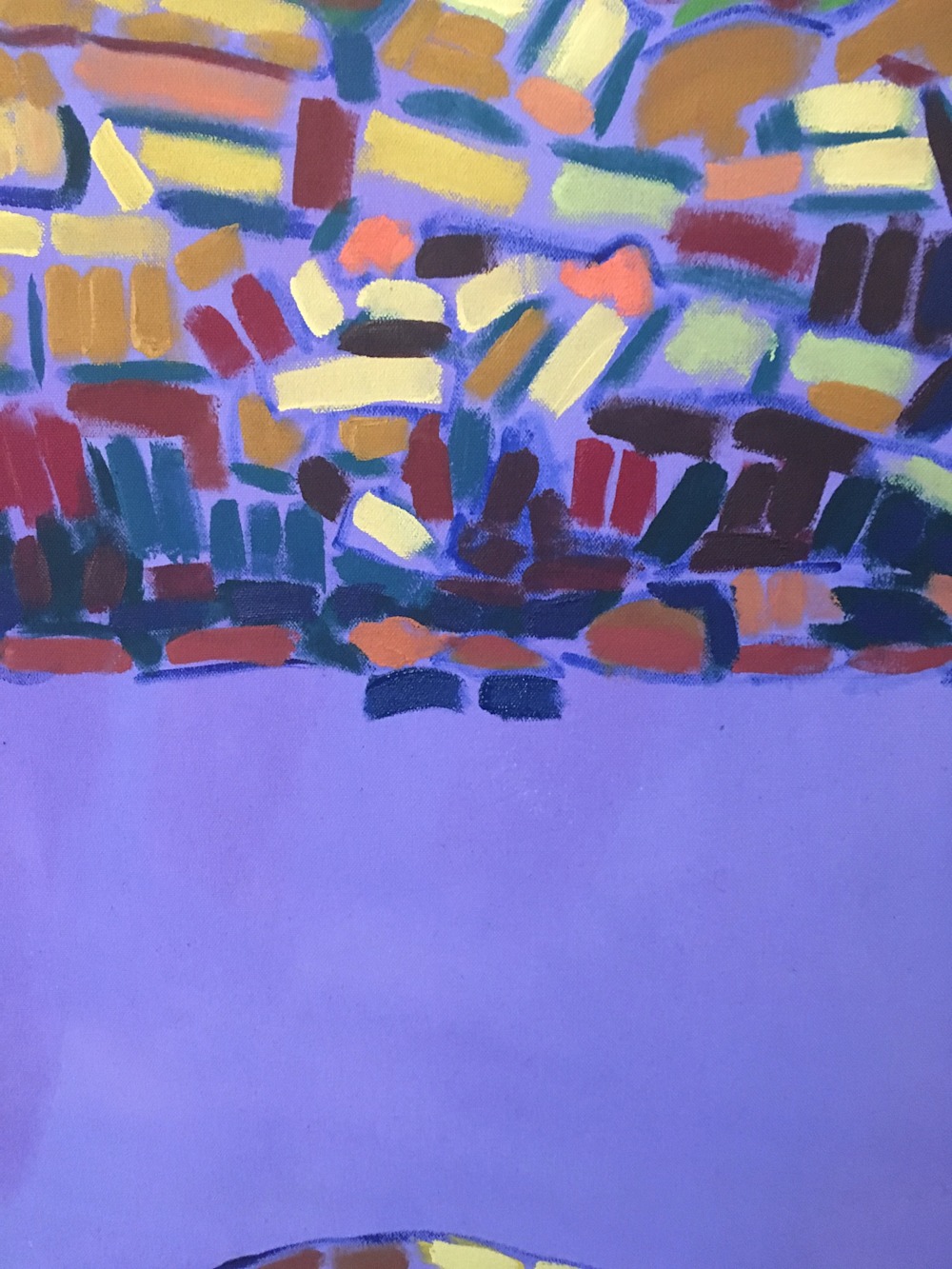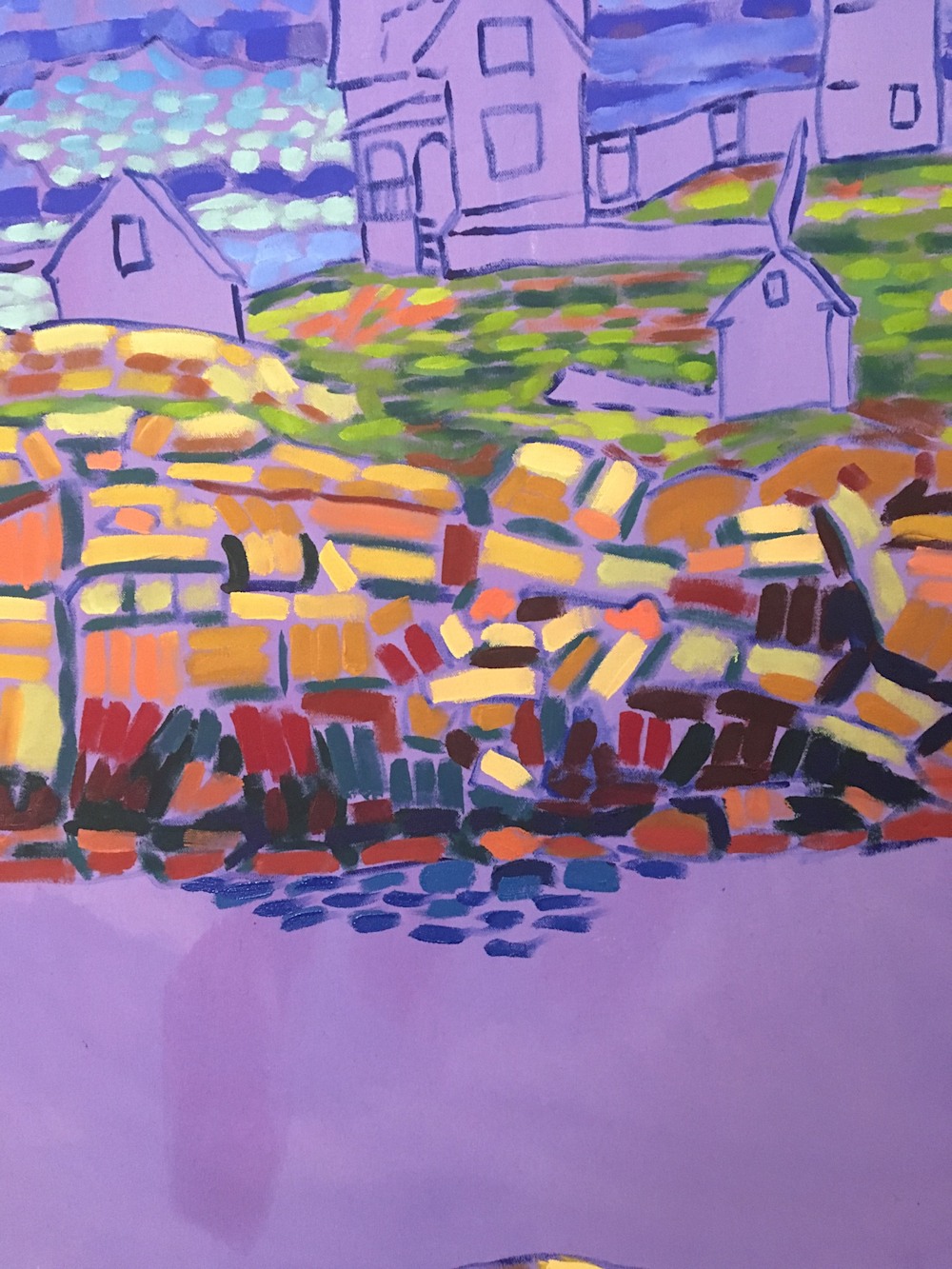 I got really mired down by the rocks for a while.....I have a distinct vision for my rocks.....I want your eyes to read "rocks", but at the same time "brushstrokes", so I'm riding this rollercoaster of subjectivity and abstraction. .....Where's my coffee!?!?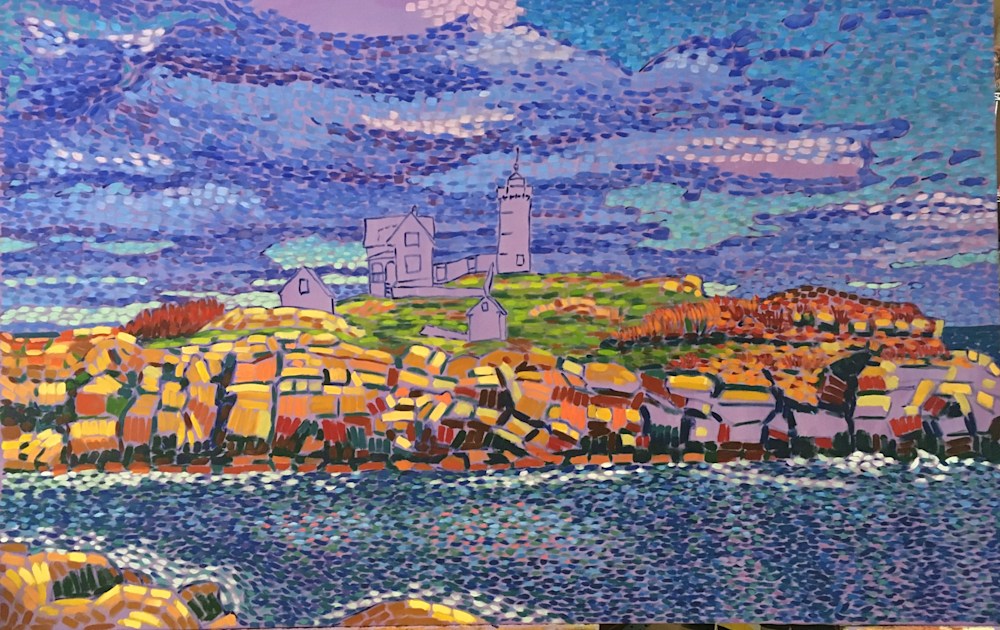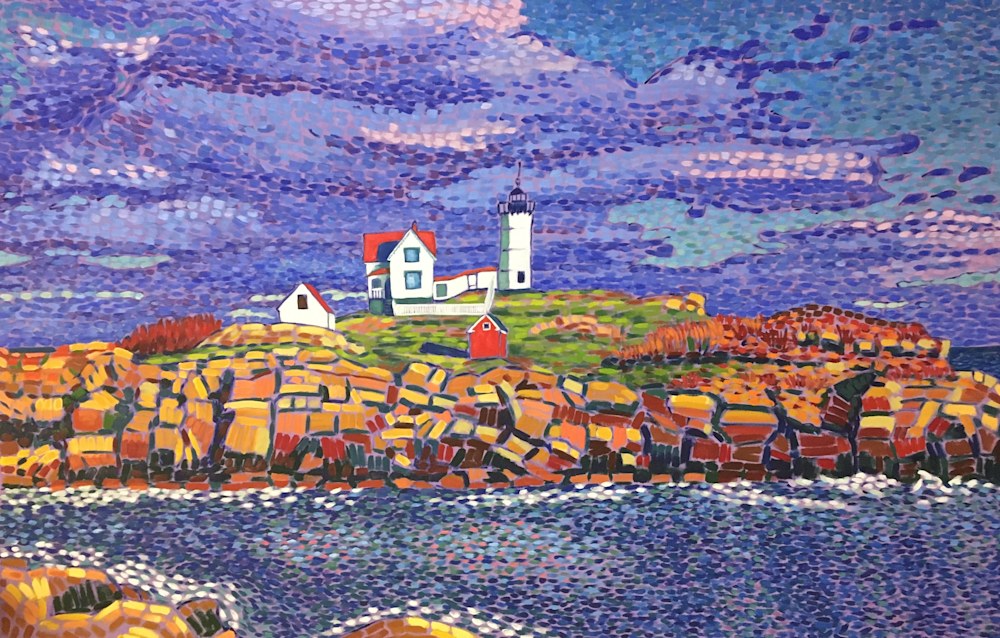 I ended up adjusting the clouds behind the lighthouse pretty significantly...and I had to give myself breaks while I was trying to "see" my way through. I really wanted the white of the house and lighthouse to pop, so I made the clouds behind them darker.
Nubble Light is on its way to a collector here in Maine! You can order a beautiful giclee print of Nubble Light HERE
If you feel inspired by this post, Like and Follow me on my Fb page: Diane Beem Fine Artist we have lively engagement there about all things art and culture!
Follow me on Instagram: @dianebeemartist check out my art process pics for my paintings, as well as HGTV videos!
Lift your mood with color!! Art lights up the brain! See more of my work here!