The Making of Our Lady of Fatima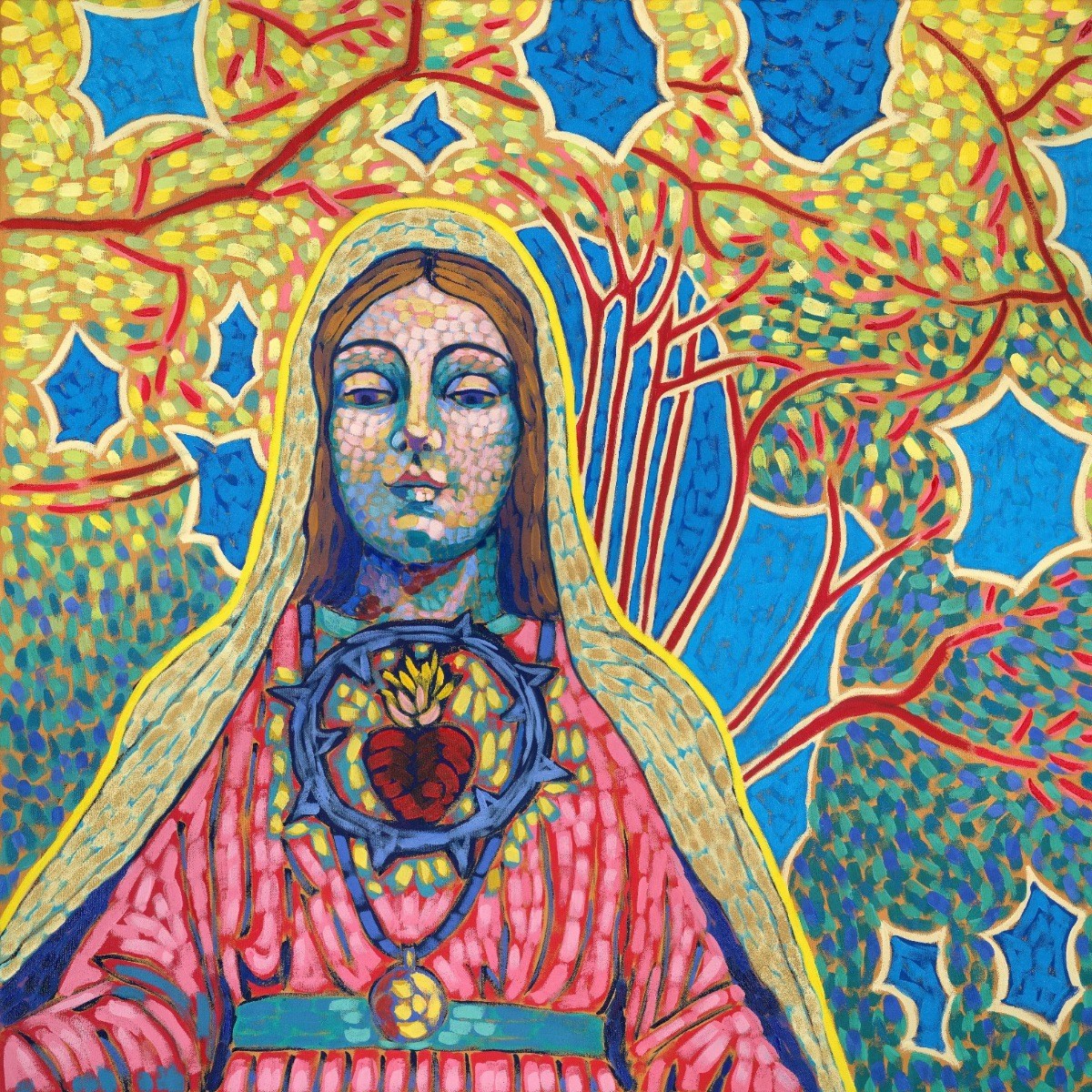 Our Lady of Fatima, 36 x 34", Oil on Canvas
Inspiration
The initial inspiration to attempt to depict Our Blessed Mother is extremely personal, and began quite a while ago. It took me a few years to actually follow up on that "call". Four paintings in, and much of my fear and tip toeing around the subject has lessoned, somewhat. It wasn't only the subject matter that intimidated me, but also the idea that there are rules and symbolism that need to be respected. And that that, in turn, would possibly demand a higher level of skill.
Intrepidation
How in the world would I approach this subject matter in the style that I had created for myself, one that took inspiration from a bunch of "wild beasts"!?! Having had quite a few conversations with fellow Catholics who made it clear that tradition and "Modernism" can't possibly be said in the same breath, I was conflicted, to say the least. My art education was formed in the secular world -- with only the briefest of brief teachings on religious art of any kind. As with most life experiences though, they tend to seep into the mind of an artist, and sooner or later they must be dealt with. Fellow creatives will know exactly what I mean.
Acceptance
I always loved the statues. I've alway been in awe of sculptors; especially having had to try it art school and having failed completely and spectacularly. As a painter drawn to abstraction, a statue to me is somewhat abstract and therefore feels approachable. There is just something about a statue - even those that are very realistic - that is abstract. At some point I I dropped the fear and the worry, and just accepted that I could depict Our Blessed Mother my way, and that was probably something I was just meant to do. (taking that on FAITH!) So I began using my own visual language -- inspired by the Fauves - and attempting to wind the my style and the tradition together, as best as I could.
Practice
When I think of a piece, it comes to me in different ways. Sometimes it is really just like a flash--where subject, composition, and color come full blown into my field of view. Other times there are just glimpses of the whole, and quite disparate influences that come together at different times to complete a view. This was the case with Our Lady of Fatima. My first inspiration was a picture of a stone statue of Our Lady on Instagram, shown below.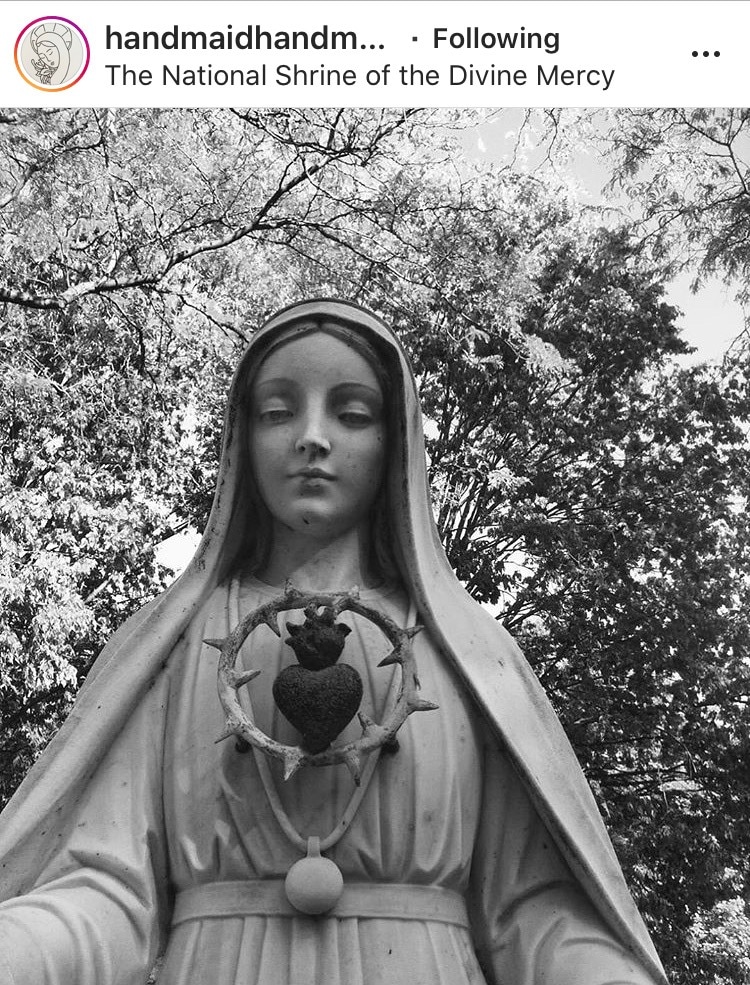 Our Lady of fatima
Photo Credit: with permission by @handmaidhandhandmades on Instagram, taken at the National Shrine of Divine Mercy.


The next glimpse came from a completely unrelated item - a photo of a fabric design selected by one of my favorite art history pages on Facebook, ArtLook Gallery, shown below. The fabric: Fabric design, [Anon., Silver Studio, England], c.1893; Museum of Applied Arts (MAK), Vienna.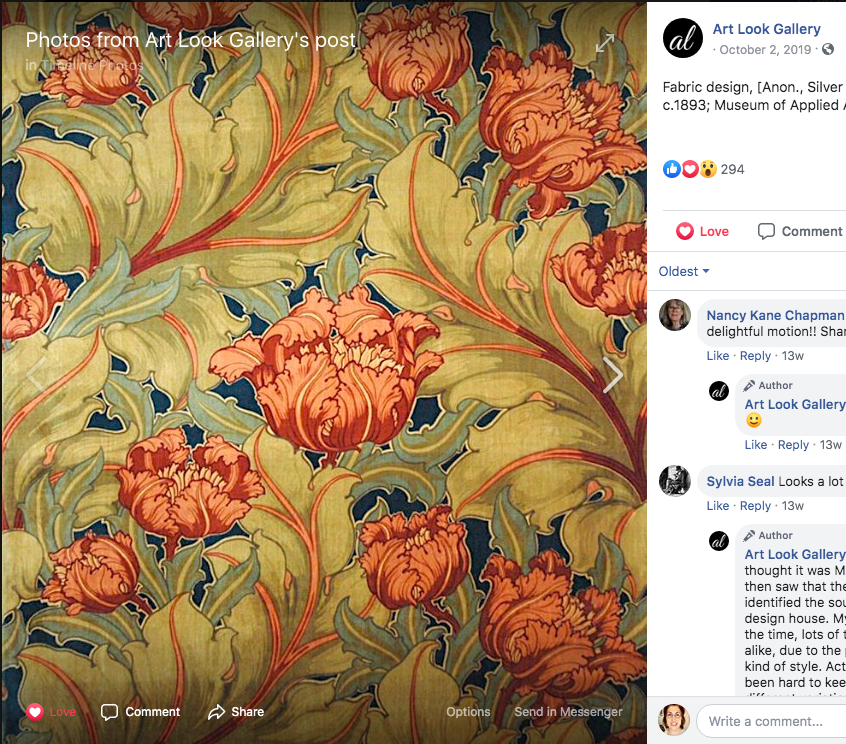 I have no idea why this piece of fabric combined with the idea of Mary and the statue of Our Lady of Fatima.....who knows what I was attracted to.....purely the color and the design, and perhaps that there are in fact symbolic colors in here....the blue for her cloak, the red signifying Christ's death, and the martyrs for the faith, but really, in the moment, on the surface, I'm only consciously reacting for form and color.....or I think I am. In any event, these two images collided in my head, and out came my image. I did have quite a few theological discussions regarding how to depict her, but at the end of the day, I need to stay true to the vision in my head.
Connect!
I hope you enjoyed this blog post. Please let me know what you think!
You can connect with me on my Facebook Art Page: Diane Beem Fine Artist where we have lively discussions about art daily, and also on Instagram: @dianebeemartist, where you can see my process photos of my paintings and watch videos on my IGTV channel! Sign up here for sales coupons and giveaways that happen throughout the year!
Thanks again for all your support and encouragement! Looking forward to an even more creative 2020!!