What the Heck is Pointillism?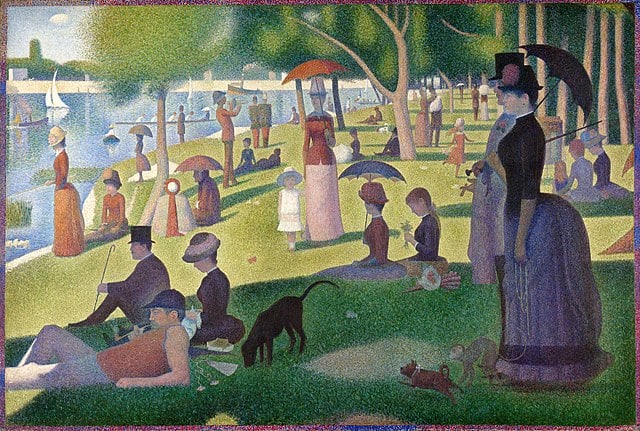 What the heck is Pointillism?
I got this question from someone on Facebook the other day and it made me think. This person had studied art for many years in school, but she never learned about Pointillism. This question reminded me that my favorite muse is actually quite obscure to the casual observer.
The picture above, A Sunday on La Grande Jatte", by Georges Seurat, 1884 is by far the most popular image people think of when they hear "Pointillism". Georges Seurat and Paul Signac are considered the founders of the movement. They were interested in applying the science of optics to develop this new style of painting, where each small individual dot would be considered in relation to the hole. So the end result for the viewer would be a harmonious picture in which the mind's eye would meld all the dots together, much like the individual "pixels" that make up a photograph or digital file today.
There were many artists who studied with and championed this movement, chief among them was Henri Matisse, who developed his own version of Pointillism, and then went on to found the Fauve movement.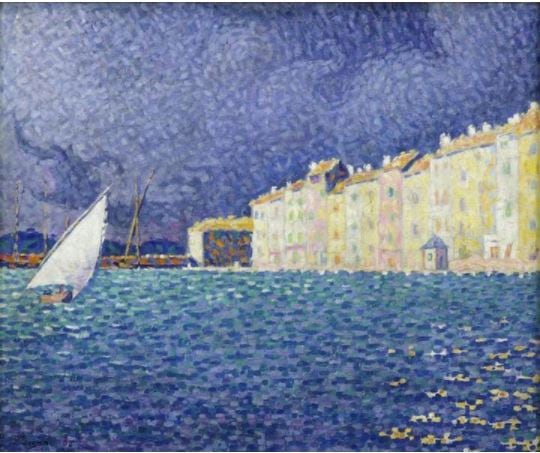 Paul Signac, The Storm, Saint-Tropez, 1895
Impressionism > Pointillism > Fauvism
"Nothing happens in a vacuum". This phrase can be applied to just about anything, but especially to art. Artists learn from both what has gone before and from their contemporaries. Therefore, any art "movement" is hard to pin down as far as beginning and ending, as they organically kind of blend into each other.
It was the Impressionists who started using bolder brush strokes. All of a sudden, the art seemed to be as much about the effect of the paint strokes as the subject matter. This was really the beginning of Modern Art, where things like form and color started coming to the forefront. Some art historians have pointed out that with the popularity of photography, it was a way for the fine artists to differentiate themselves and their art. There are many reasons, cultural, historical and political that all made these movements. As a fine artist and NOT an historian, I am mostly interested in the visual aspects of the art. (Although I do at times enjoy going down a good rabbit hole on a rainy afternoon with my art history books!)
Fellow artist Henri Matisse was a huge champion of Seurat and studied his work very closely. The picture above, "Luxe, Calme, et Volupte" (Invitation to a Voyage), 1904, was painted by Henri Matisse, and represents his own version of the pointillist style, with the dots of color being much looser. The picture below, "La Siene and La Grande Jatte", 1888 by Georges Seurat, already shows a somewhat loosening of the dots and represents the swiftly evolving style.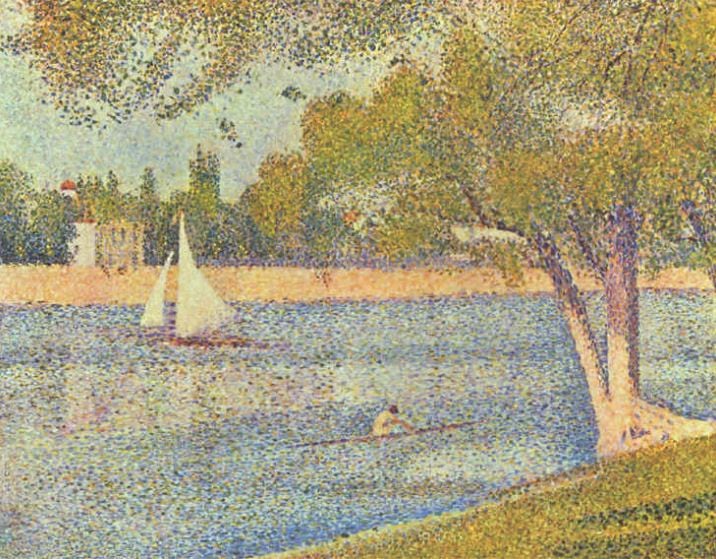 About my own work, while many use the term Pointillism, I use it only with the understanding that it is part of the story of Fauvism. I feel my work resembles Pointillism, but technically is really more like Fauvism. I'm not so concerned with the technical and 'optics" of Pointillism, even though I am using dots, or points of color. My strokes are bigger, and I strive for a more freewheeling and expressive style shared by the Fauvists.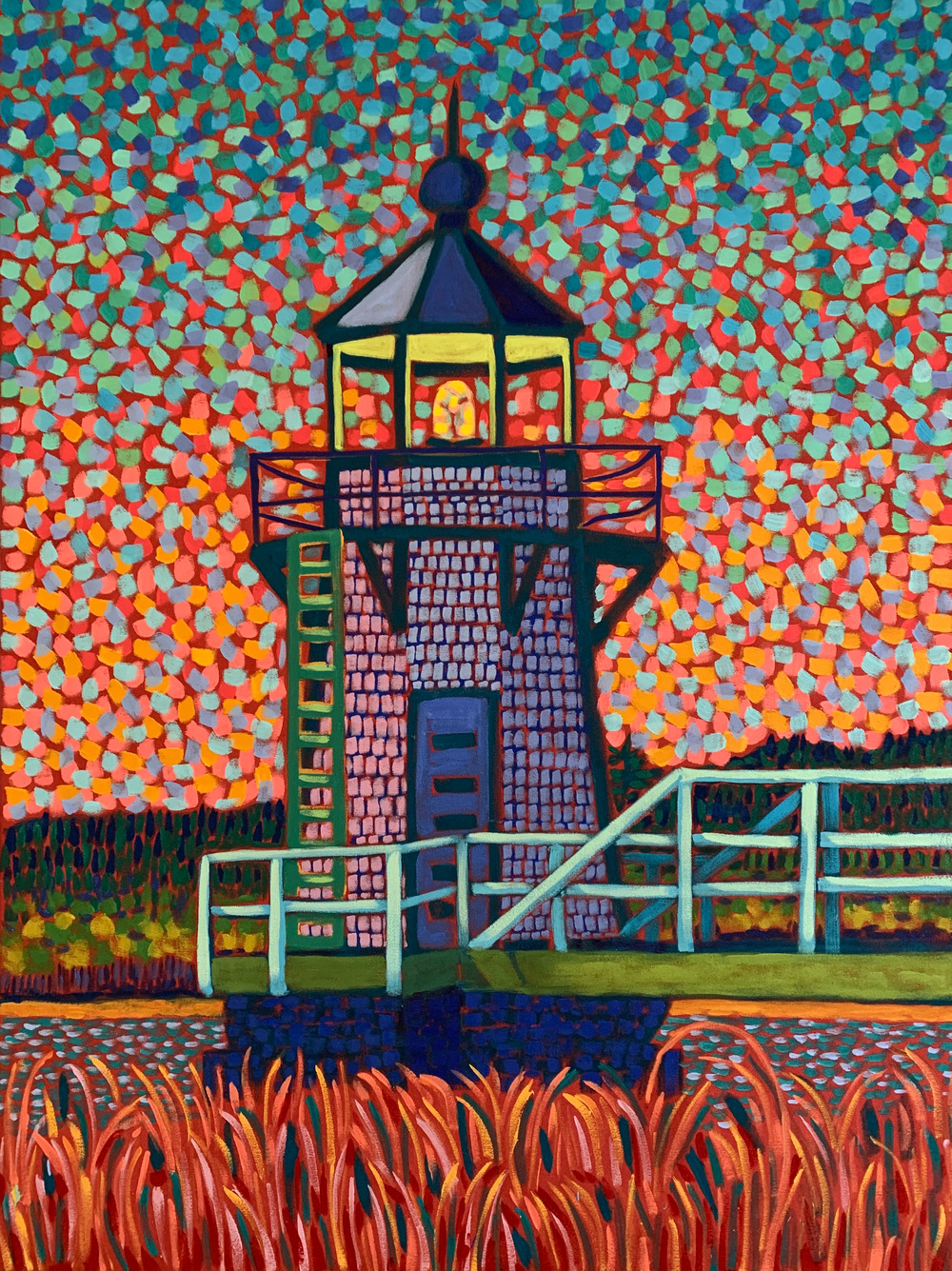 Minot's Ledge Light, 40 x 30", Oil on Canvas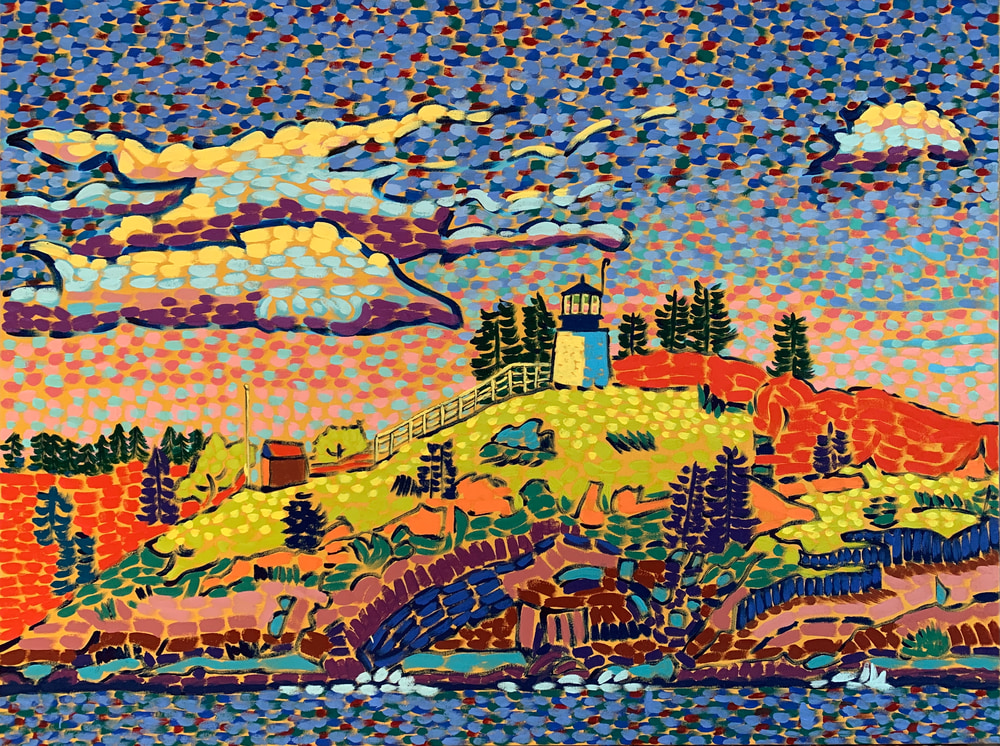 Owl's Head Light, 30 x 40", Oil on Canvas
Both of these paintings are currently available at Mae's Cafe and Bakery in Bath, Maine.
Thanks for reading my blog! Sign Up to my email list to be notified of exclusive sales and studio insights! >>Sign Me Up!<<